50. Smiley Helmets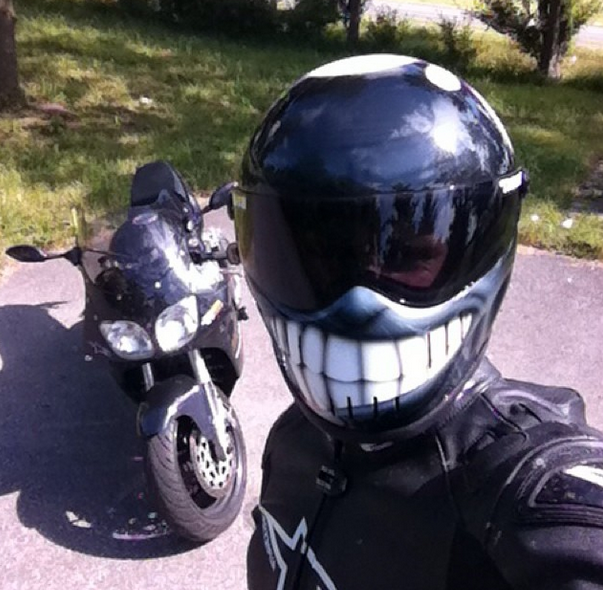 Open roads and big smiles. That's what the Smiley helmet does to the person wearing it, and all who see it – especially for the first time.
How can you not crack a smile at one of these? They are common on the Bandit Helmets, but this airbrushed paint art can be found on almost any brand of full-faced helmet.
49. SOA Lid – Sons of Anarchy Signed

A Sons of Anarchy Helmet signed by the entire cast of the show is a collectors wet-dream. So is being a guest on the show (hint, hint) for a regular ol' biker like me. I did meet Jax once in person at a rally, and that was pretty cool. Forgot to get him to sign my helmet though 🙁
48. Permanent Marker Custom Helmets

Drawing on a helmet with a permanent marker? Yup, you don't need paint, brushes, airbrushes or a a lot of art/design experience to get started with one of these. There are also some popular brands putting out some really cool designs pre-printed in a faux-permanent marker helmet design. Grab a fine-tip and get to doodling. Here are a few more designs for your new sharpie helmet.
47. Harley Helmets by bell customs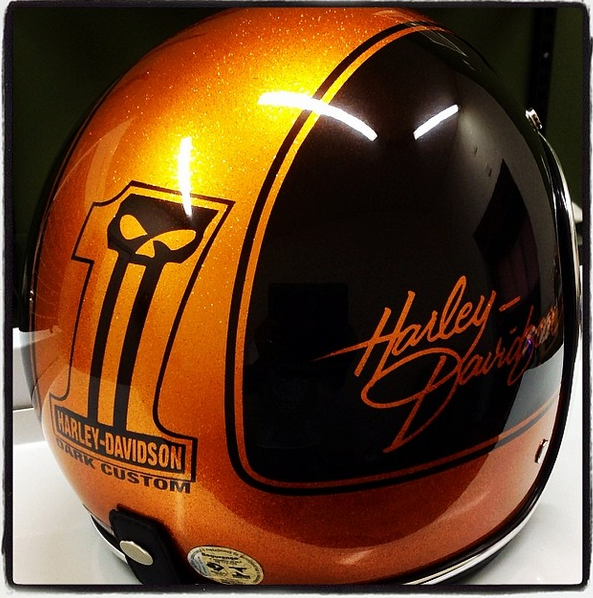 Old school custom harley helmets have a feel and style to them that remind me of the 70's. (ok, movies from the 70's) Something about the Harley brand combined with the original bikers of old.
46. Reevu Helmet

Reevu Helmets have a mirror on the top of the opening while looking from the inside out of the helmet that shows you what is going on behind you. A path of mirrors wraps around the top to get you a clear view of the zombies that are riding up on your tail.
These High Tech Helmets are trying to make you safer on the road. Something that we all want and need from ride to ride.
45. Fallout Helmet
Fallout video game helmets bring out the geekery side of the little boys in us all, if you admit it or not.
Thinking back to the time of video games, this helmet reminds me of a cross between the Halo and Redhood.
Here are a few video walkthroughs of how to do it.
44. Iron man Helmet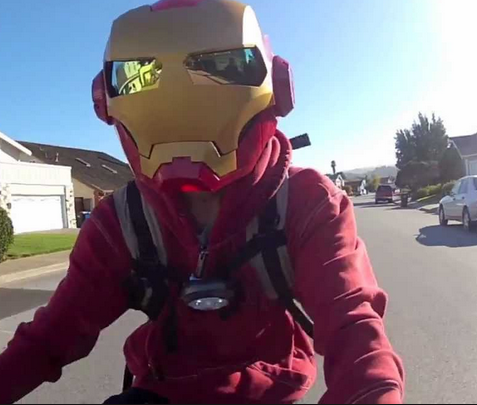 Wearing an Iron man helmet will make you feel like, – well, Iron man. And they are not that hard to make either. You won't find an actual motorcycle helmet in production, but the color schemes can be found on a few. Steampunk Iron man get a +2 on the geek scale.
43. Carbon Fiber Simpson M30 Motorcycle Helmet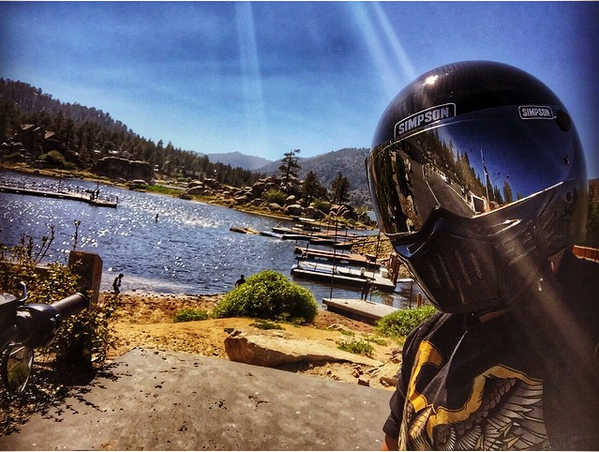 Nothing can quite double the cost of a motorcycle helmet like making it out of carbon fiber. File this under the "what to blow my extra cash on" when I become filthy rich category. But they are sexy….
Here are some carbon fiber motorcycle helmets that rival this one.
42. Pirate Bandit on a Bandit Helmet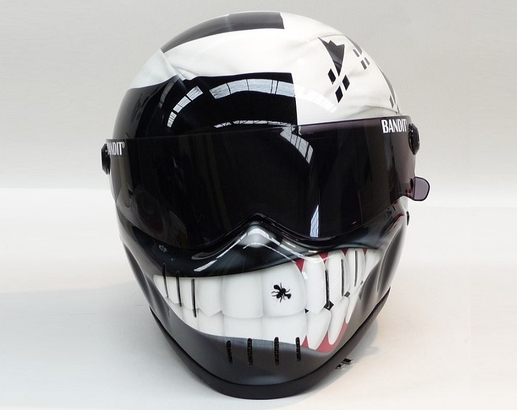 Pirate Bandit, check. If you are going to wear a helmet called "Bandit" it better be painted like a pirate.
Arrrrrrrrrr!….. (couldn't help it)
41. Optimus Prime – Transformers Helmets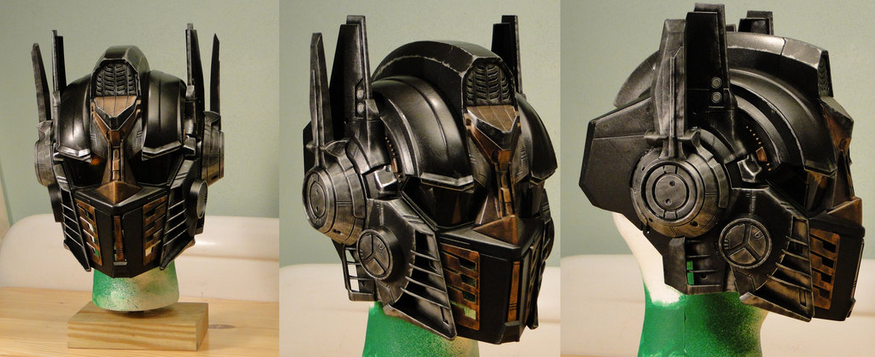 Transform you helmet into a transformers helmet! (Terrible, i know – i know) The ultimate adult/little-kid can show of his crazy obsession with an Optimus or Bumblebee helmet from Transformers . Lights and voice changer would a +3 on the geekery scale.
40. Roof Boxer Helmet
The roof boxer has a full helmet feel, with the modular capability. IMO, it's a more sleek take on the run of mill modulars. The front can flip up and out of the way, and you can ride with it open. Nice.
39. Monster Energy Helmet Design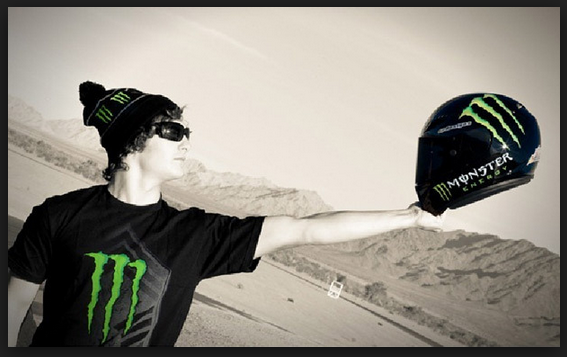 I have a love/hate relationship with Monster. Love to drink it, hate to see it plastered all over some suburban high school punks hat. Just me. The monster helmets on the other hand, will I guess I am a little biased. My site, my rules. The HJC RPHA11 Pro has a very slick Monster Energy Design also…
38. Carbon Fiber German Helmets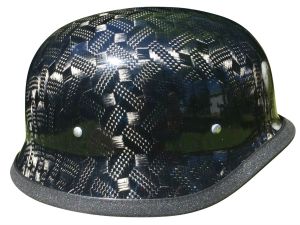 German helmets are the half helmets with the lip the flairs out all the way around the brim of the helmet. Usually black, you can find them in chrome and an assortment of colors.
When you make them out of a high strength blend of carbon fiber and kevlar, the look pretty sick, —>
You can check out just how German I am here.
and "Hau ab"
37. Steampunk Helmets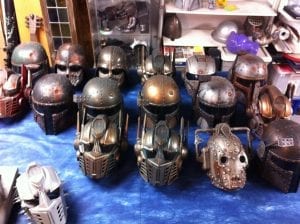 Steampunkers have it made when it comes to originality and creativity. What was once a heap of junk metal and scrap iron, is now a work of art. Bless em, you have some fine artwork – and sweeeeet helmets.
36. Pigtail Accessories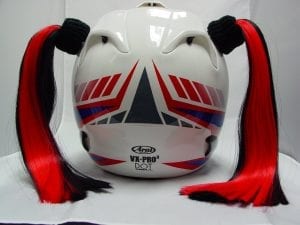 A fine accessory of the feminine variety.
Permanently or temporarily attaching a few pigtails on the rear of your helmet brings of that fine "biker bitch" attitude we all know and love. 🙂
Here are a few more of the coolest helmet accessories available. 
35. Star wars stormtrooper helmets
You are not a star wars fan unless you have yourself a Star Wars themed motorcycle helmet.
That is all .
34. Old school helmets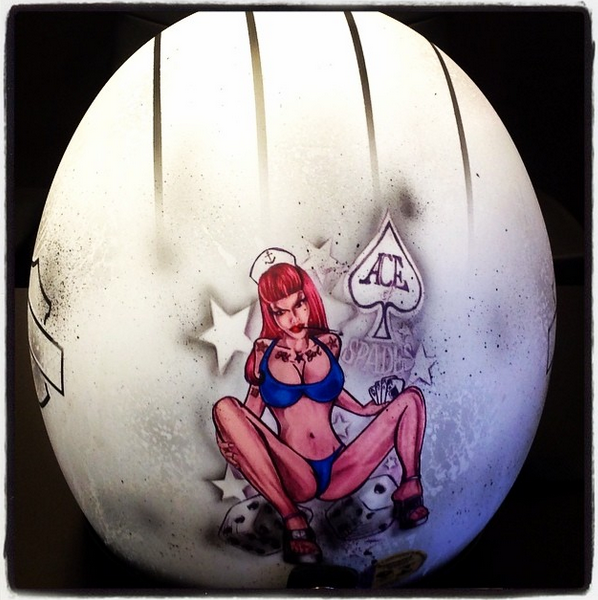 Old school – the 70's and 80's. There I said it, and getting old sucks. We can agree on that. Old school helmets draw inspiration and style from a time that has once passed. The originals – the first bikers – gave us a great name and reputation to live up to.
33. Steam-Punker Spike Helmets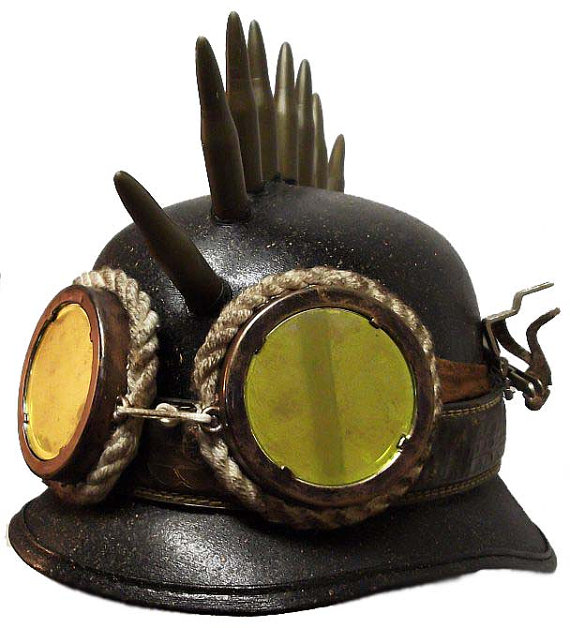 A difficulty rating of about 1 (on a scale of 1-100) adding a spike or a set of spikes to a helmet can give it that something extra it has been needing this whole time.
32. Apocolypse Helmets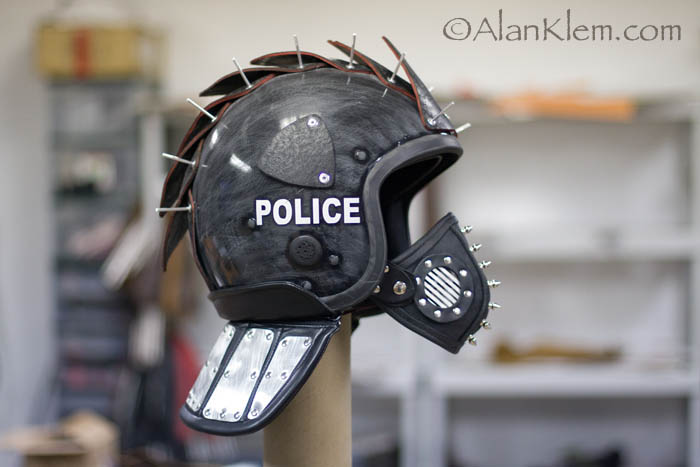 Better to be prepared for when the Apocalypse happens.  I know I'm not giving up my motorcycle, it's just going to have a few more metal attachments to be combat ready. And for my body, well – here are a few Apoc Gear Guides for Men and Women.
31. Predator Helmets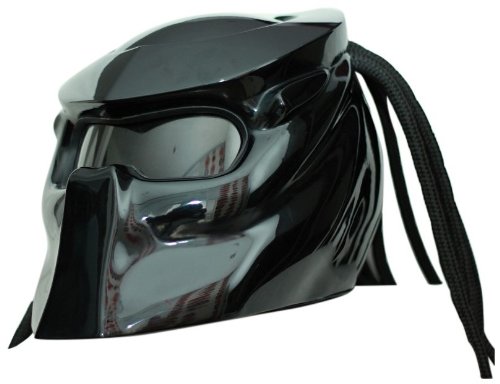 Scaring little kids in a predator mask is a lot easier when you can pull up next to them on a motorcycle on the street. Minivans with the family on board stickers – you have been warned.
30. Helmets for Dogs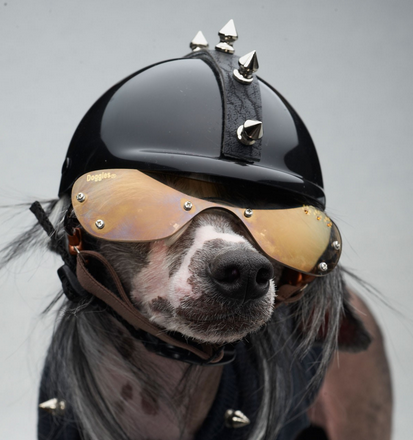 Not your everyday novelty helmet, you best 4-legged friend is gonna need himself a skull protector like yours. I'm more of a dog kind of guy myself, so I'm biased. You just don't see a lot of cats on motorcycles… but you do. More Dog Motorcycle Helmets.
29. Halo Master Chief Helmets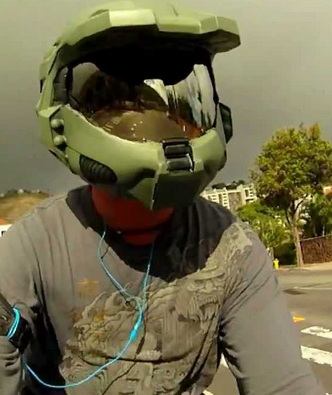 Battlefields are jumping out of the video game console and onto the roads with a modified Halo Motorcycle Helmet. You and all your man-child friends can reenact your best battle scene replays, while riding your bike.  We call that a win. 
Here is how you can make one for yourself with a little glue and a cosplay helmet, or you can pre-order a DOT Master Chief Halo Motorcycle Helmet here.
28. Redhood Helmet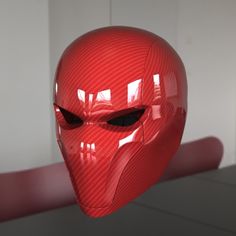 Another iconic comic book character. The Redhoood does not see as much of the lime light as his Iron Man and Spiderman counterparts. However, he can stand toe to toe with them on the street.
27. Bluetooth Helmets – Wireless Schuberth S2 Helmet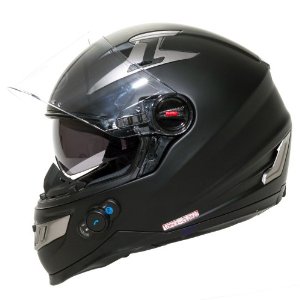 Chatting and listening to you tunes on the road with a Bluetooth helmet can change the way that you ride.
The Wireless Schuberth S2 Helmet is setup for FM comms and bluetooth, which is pretty nice if you are a media junky.
Riding more is a common side effect of adding a bluetooth headset to thy helmet.
Here are the top 5 bluetooth helmet kits to add one to your own.
26. Whiskey Helmets – Jack Daniels Edition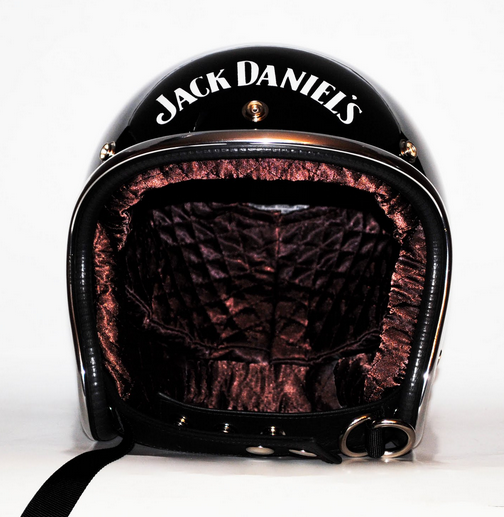 Whiskey and Motorcycles? That's why I started riding in the first place. No really. Now that I am a little more mature (very, very little), I ride the moto and then drink the whiskey – not the other way around.
25. Darth vader – The Steampunk Edition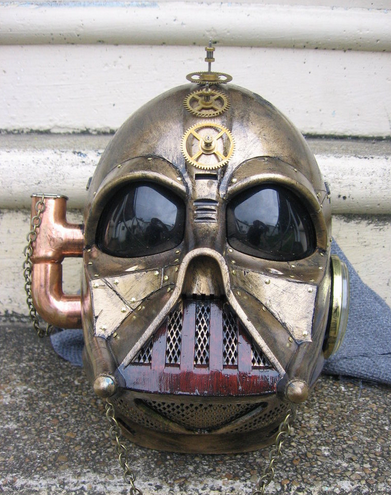 Cosplay on the road, I say "why not?" The force can ride the open road too. A Darth Vader Helmet is a +2 on the geek scale, just don't think that you are going to pick any girls with this fancy lid on, unless she's wearing one too.
24. Offensive Stickers – Not pictured *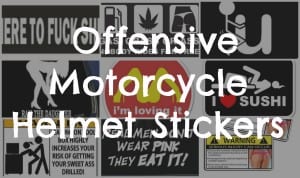 Sorry hun, sorry mom. These stickers are going to make you slightly angry. But we all have a reputation to uphold, and these will keep your Biker street cred in tact.
Prepare to be *slightly* offended.
23. Pinup Girl Helmets
"Pinups" add a little old school style to a helmet like adding some "nose art" does to an airplane.
You name it, and then you love it.
22. Vintage Helmets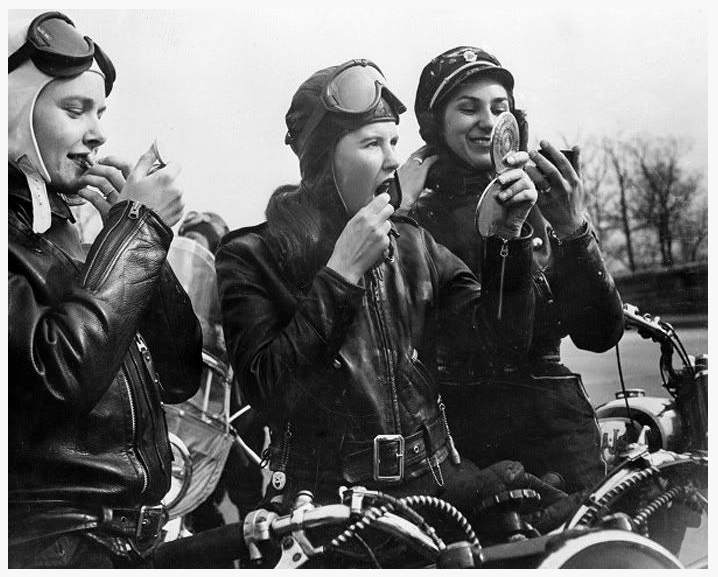 Going back a little further than the old school vibe, a vintage helmet is hard to find and  classic piece of art. Nothing but a thick piece of leather between you and miles of asphalt. Ah, the good ole days.
21. Joker Helmets
Batman doesn't get all of the glory with joker helmets stepping in on his fun. Airbrushing helmets to look this good does take some artistic skill that I certainly do not have.
And you can see from the inside out through the visor – just don't ask me how.
20. Transformers – Bumblebee Helmet
The Best Transformer (yeah I said it) Bumblebee has gone biker. Not really, but you can take the bits and pieces from a novelty helmet and attach them to a plain motorcycle helmet.
With a little paint it is a fairly complex task, but not too hard. Check out the Iron man conversion for some ideas.
19. Cat Ear Motorcycle Helmets
Nitrinous Helmets has a cool setup with a pair of cat ears on top of the helmet. You may be thinking that will create a good amount of wind drag, but after looking a little more into it you'll see that the front piece is a screen and there are vents in the rear to pass the air right through.
Pretty cool, pretty badass.
Here are some more cool cat ear helmet designs. 
18. Diamonds, Crystals, and Jewels on a helmet.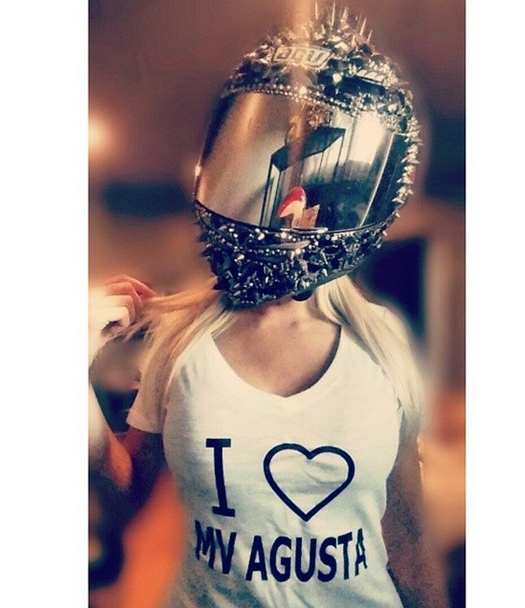 A girl can have her sparkly things on a motorcycle helmet too. Go ahead and try not to be amazed by it, I dare you.
17. Aviator Helmets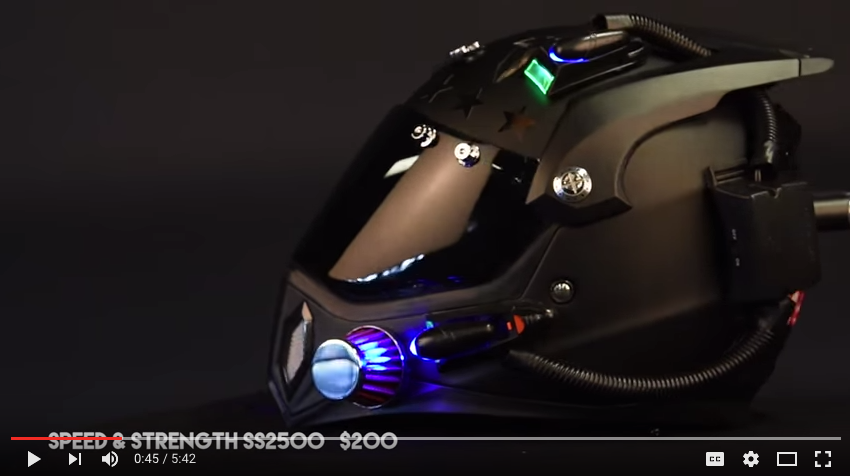 Motopilot put together a great walkthrough on how to transform your boring old bland helmet into an aviation work of art.
Here are some more Aviator Motorcycle Helmets.
16. Carbon Fiber Full Helmet Wrap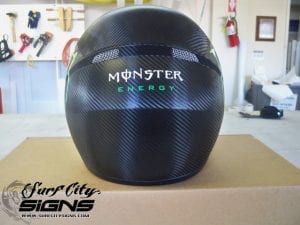 Love that carbon fiber look, but as broke as me? Surf city signs has carbon fiber helmet wraps you can DIY on a budget. (Update* – Looks like they have since closed though.) Better try amazon.
Not worried about dropping $1k on a helmet? You the man.
Get a real carbon fiber helmet here.
15. Pinstriped Pink Helmet- by Hot Rod Jen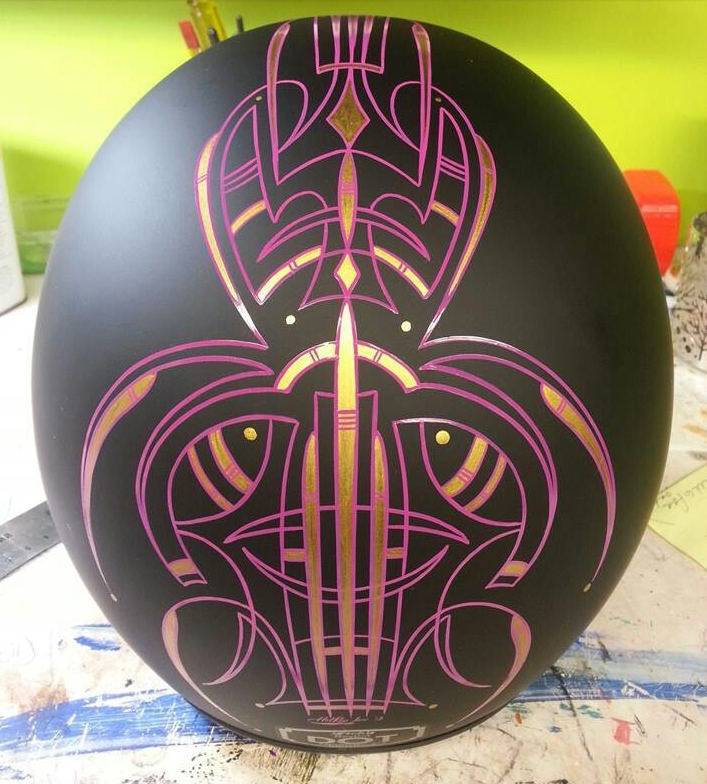 Pinstriped helmets are pieces of artwork on the road. There are pinstriper's and then there are professional pinstripers. A glance at their portfolio and you shall quickly find out the difference in the 2. Here are a few more awesome pinstriped motorcycle helmets.
14. Lightmode Helmets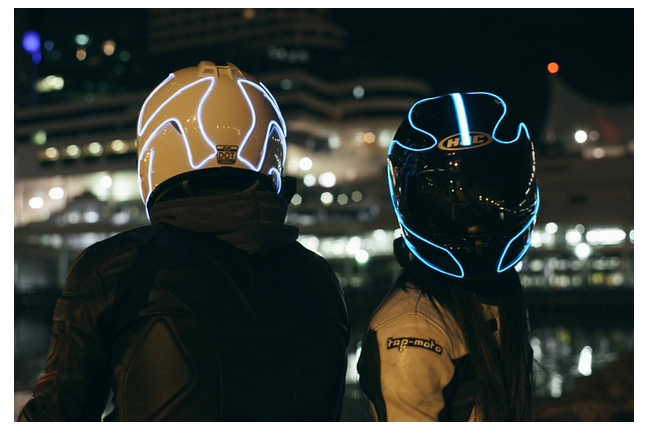 A recently successful Kickstarter campaign for Lightmode helmets was what turned me on to this style of custom helmets. Lightmode uses EL wire to light up the night and increase your road visibility and safety. Looks pretty sweet too if you ask me.
Here are my top 10 Favorite Lightmode Helmet Designs.
13. Skulls 3D Helmet
There are skull helmets, and then there are 3D skull helmets. Riding behind one of these for to long on the road might just give you nightmares.
12. Batman Helmet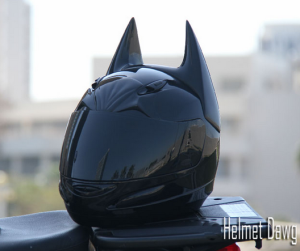 Batman by Helmet Dawg – I think the only appropriate response every time that you see this helmet on the road (even if it is a friend you ride with all the time) is :
"I'm Batman!"
11. Shiny Bull Horns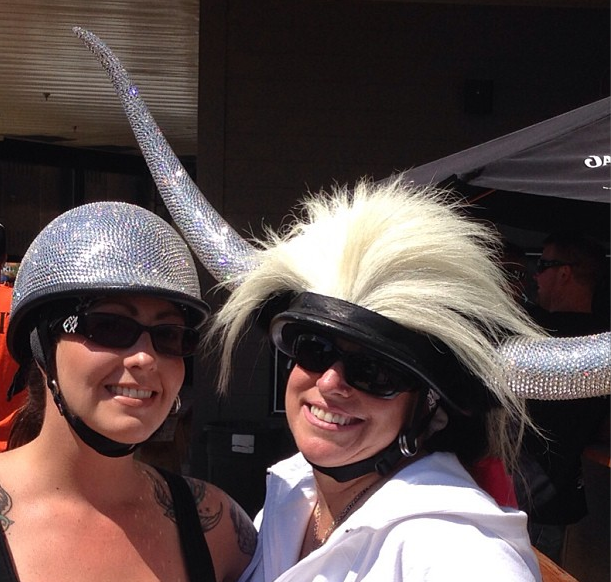 Their Bull Horns with crystals attached! Why didn't I think of that.
11. Black Crystals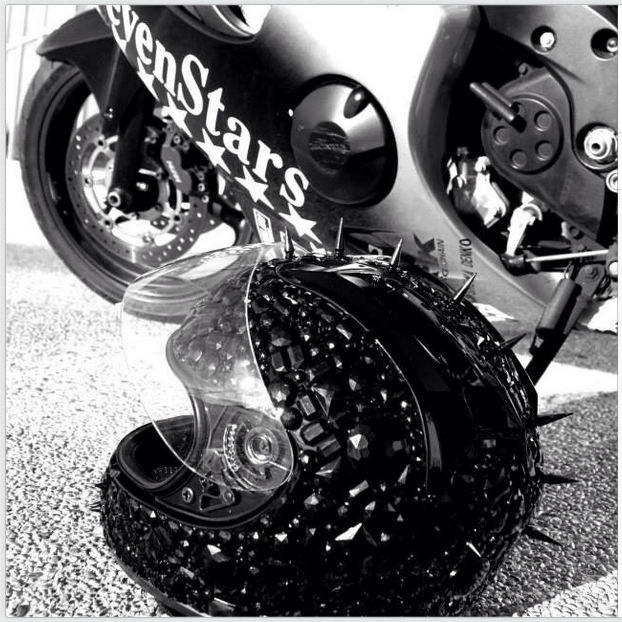 While you will not find any manufacturers putting out helmets with spikes and crystals attached to them, doing it yourself makes these helmets works of art- that you can say you did yourself!
Go ahead, do not fear the glue.
10. Star Wars Boba Fett Helmet
The legend of the Star Wars character Boba Fett has been applied to this state of the art RPHA 11 Pro helmet by HJC.
Rumor to be having his own episode in the next series of movies that are currently being filmed and released, we would love to see more of this legend from our own childhood.
9. Naked women helmet liners by chemical candy customs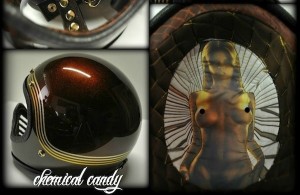 Did you say Naked? Chemical Candy customs does not stop with outside of the helmet, they go ahead and use the inside of it as a blank template for artistic creation as well.
Here are my Top 10 favorite helmets by CCC.
Riding behind bars on the open road in a full skeleton face style helmet = one badass biker.
You may not be tough enough to pull this look off. Most likely you are not.
Sorry.
7. Spiderman Motorcycle Helmet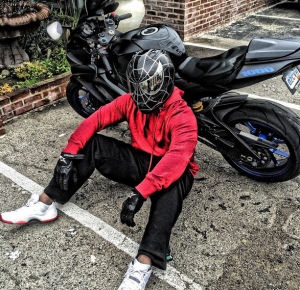 Spider man motorcycle helmet – the all black edition, will make you go faster, jump higher, and kick more ass.
Maybe not, but wearing it might make you feel like you can. Just gonna have to try it for yourself and see.
Here are about 20 more spiderman helmet designs.
The Venom Helmet is also now available.
6. Shark Raw with Drift Camera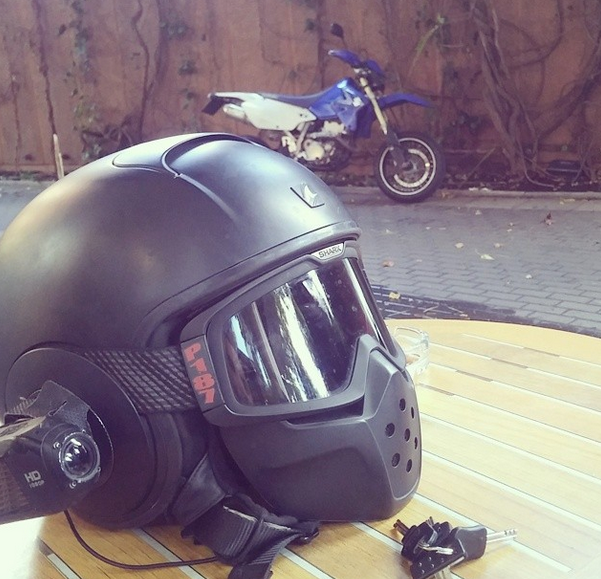 Upgrading the Shark Raw with an action camera like the Drift turns that black helmet into a personal camera man. Stunts, tricks, and accidents now can be recorded in first person, all in HD. I love technology 🙂
5. Halo 4 Didact Helmet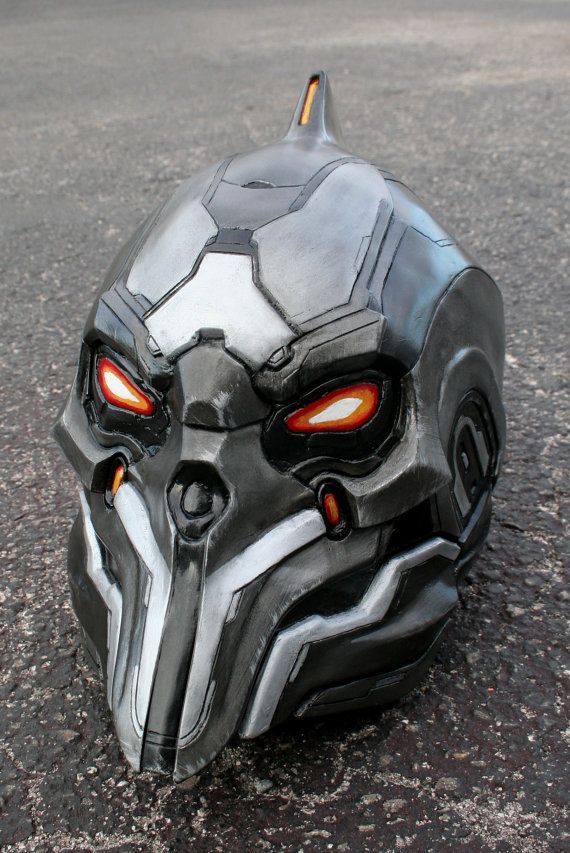 Step aside Master chief, this upgraded Halo 4 helmet is going to scare more children than you can.
 4. Scorpion Covert Ratnik Helmet
The Scorpion Ratnik Helmet has a removable front face shield and side collars making it a truly unique and highly customizable motorcycle helmet. We'll be sure to see some very creative designs happening on this one this summer.
3. Skully AR-1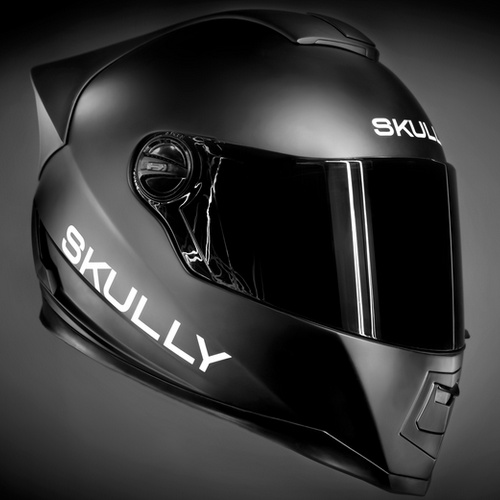 New to the scene, the Skully is mixing up motorcycles with technology. Bluetooth, GPS, and a heads-up display inside of your motorcycle helmet – you might feel like the Iron Man himself while racing 100+ in this one.
After production starts next year, this will most likely be the coolest motorcycle helmet of 2015-forever.
*UPDATE – Skully has been shutdown. The board has removed the guy in charged, and closed the doors on further development of this technology based helmet.
Someone will pickup where they left off, but for now it Skully is no more. 
2. Bell Rogue Motorcycle Helmet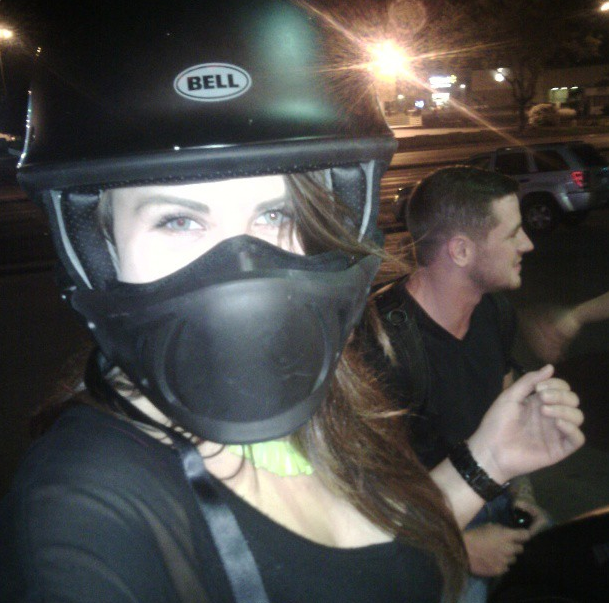 The Bell Rogue is a helmet with an additional mask, unique to a full faced helmet. You get to choose your own riding glasses as this helmet is open in the eye area. Some custom helmet painters have been having a fun time with this one.
1. Shark Raw with custom paint job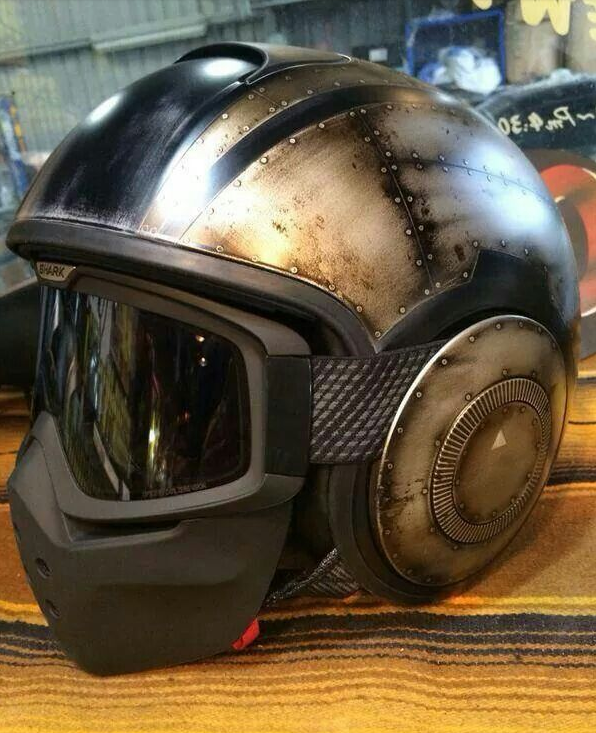 The Shark raw is one of those hybrid crossbred helmets that is almost a full faced helmet, and can be worn like a half helmet. The mask does not provide hardly any impact protection, but it can fend off a June bug or two. And the full goggles provide some nice wind/noise protection.
The custom paint opportunities on this model of helmet also are a bit more unique than its other counterparts.
3 of the Coolest Helmets – that I would not get caught DEAD in.
The Skunk Helmet – The Head Helmet – And The Full Moon Helmet
See Also: